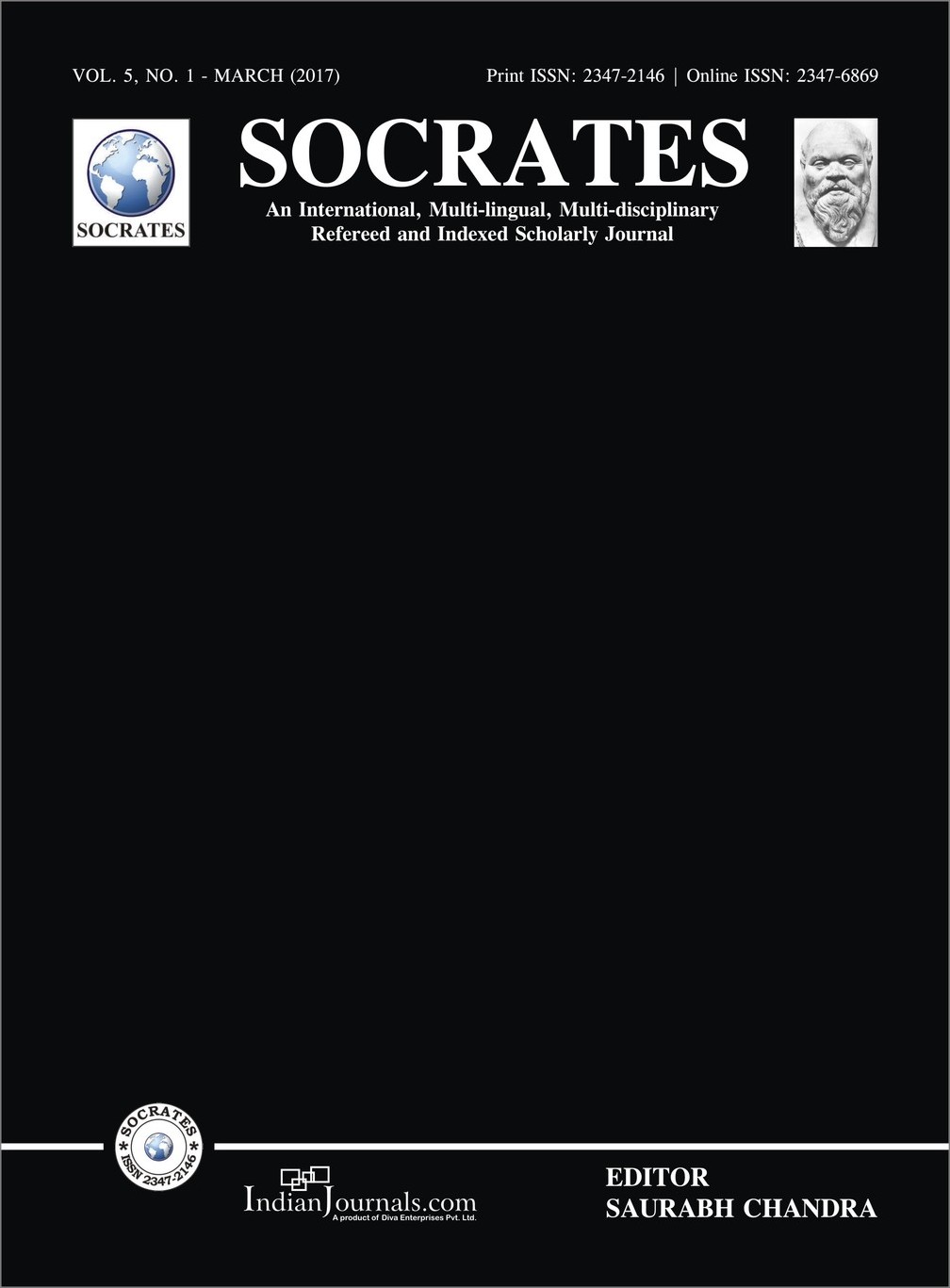 About this issue:
This issue of SOCRATES has been divided into four sections. The first section of this issue is Language & Literature- Persian, which contains an article authored by Nazia Jafri. In this paper, hidden corners and unfamiliar life and priceless works of Hussain Quli Mastan, who was the the first Iranian photo-journalist, has been introduced.
The second section of this issue if Language and Literature-English. Paper authored by Dr. P. Saravanakumar studies the use of a mask in Girish Karnad's play "Tughlaq." Tughlaq is the most complex and complicated of Girish Karnad's works. Paper authored by R. Kaliyaperumal highlights the Science and Technology in Dan Brown's Digital Fortress. Paper authored by Vincent P discusses Black Community Voice Echoes on Eradicate of Identity in Toni Morrison's Novel Home. While exploring the twenty-first-century work Home we find the voices, which indicates the voice of the colonised people. A deep study of this novel exposes the events and happenings at the time of colonisation. It also exposes their emotions and feelings.
The third section of this issue is Philosophy. Paper authored by Giuseppe Gagliano intends to identify several key concepts that emerge from an analysis of Aron's acclaimed work on the role played by Marxist-Leninist ideology in the development of the 20th-century philosophic thought. Paper authored by Rocco Angelo Astore is an argument in favor of the Universal health care.
The fourth section of this issue is Politics, Law and Governance. Paper authored by Dr. Galyna Fesenko and Dr. Tetiana Fesenko aims to outline the role of e-democracy within the setting of the Eastern Partnership program. The article provides the comparative review of E-Government progress in six EaP countries in 2009 – 2016. Paper authored by Dr. Surendra Misra is related to Governance, Good Governance and development of different sectors in India. Paper authored by Dr. Sanjay Kumar Dwivedi focuses on the E-Governance initiatives that have changed the life style of rural citizens and in which the citizens derive benefit through direct transactions with the services provided by the union and the provincial governments. The paper also highlights the variety of constraints in implementing the E-governance projects in rural areas.
Full Issue