A very warm Welcome to SOCRATES !!
SOCRATES is an international, multi-lingual, multi-disciplinary refereed and indexed scholarly journal produced as par of the Harvard Dataverse Network. This journal appears quarterly in English, Hindi, Persian in 22 disciplines.
SOCRATES is available in both Print and On-line versions.
Printed Version (ISSN 2347-2146): Format: Print Book
On-line Version (ISSN 2347-6869): Format: Published online (PDF)

Journal Frequency: Published quarterly in March-June-September and December i.e. Four Issues in a year.
Script/Language of the Journal: Multilingual - English, Hindi, Persian
Mission:
SOCRATES aspires to be one of Worlds leading Journal Publishing innovative, responsive and high-quality Research Papers. Socrates is a serious, scholarly publication that is peer-reviewed and indexed, and we only accept quality manuscripts to publish in this international journal.Our mission behind introducing and initiating this journal is to motivate Scholars who have the willingness to Produce and publish quality research and discuss his/her original research, thoughts and ideas. We strongly believe in the concept of a connected academic world of researchers. Thus, we have indexed our journal at some of the best citation centres.
Current Status of the Journal:
The Journal Socrates is relatively young yet well-known around the Globe.
SOCRATES has been recognised as one of the major international journals worldwide. One and only Journal from Asia and the pacific which has been included in E-journals.org. E-Journals.org is the most honoured and trusted source which dates back to Tim Berners-Lee (inventor of the World Wide Web).
Produced as par of the Harvard Dataverse Network.
SOCRATES is under evaluation in Science Citation Index (SCI), ISI Web of Knowledge and Web of Science (Thomson Reuters)
SOCRATES is under evaluation in SCOPUS
SOCRATES is under evolution for inclusion in "The Philosopher's Index" (The Most Authoritative Online Bibliography in Philosophy).
SOCRATES is a REGISTERED JOURNAL FOR INDEXING (METADATA HARVESTING) Base URL for SOCRATES Repository: OAI-PMH version is 2.0 http://www.socratesjournal.com/index.php/socrates/oai Registered with world's topmost directories and databases.OAI base:http://www.socratesjournal.com/index.php/socrates/oai
Other Units/projects of the Journal:
**********************************************************************************************************************************************************************************************
Vol 4, No 4 (2016): Issue-December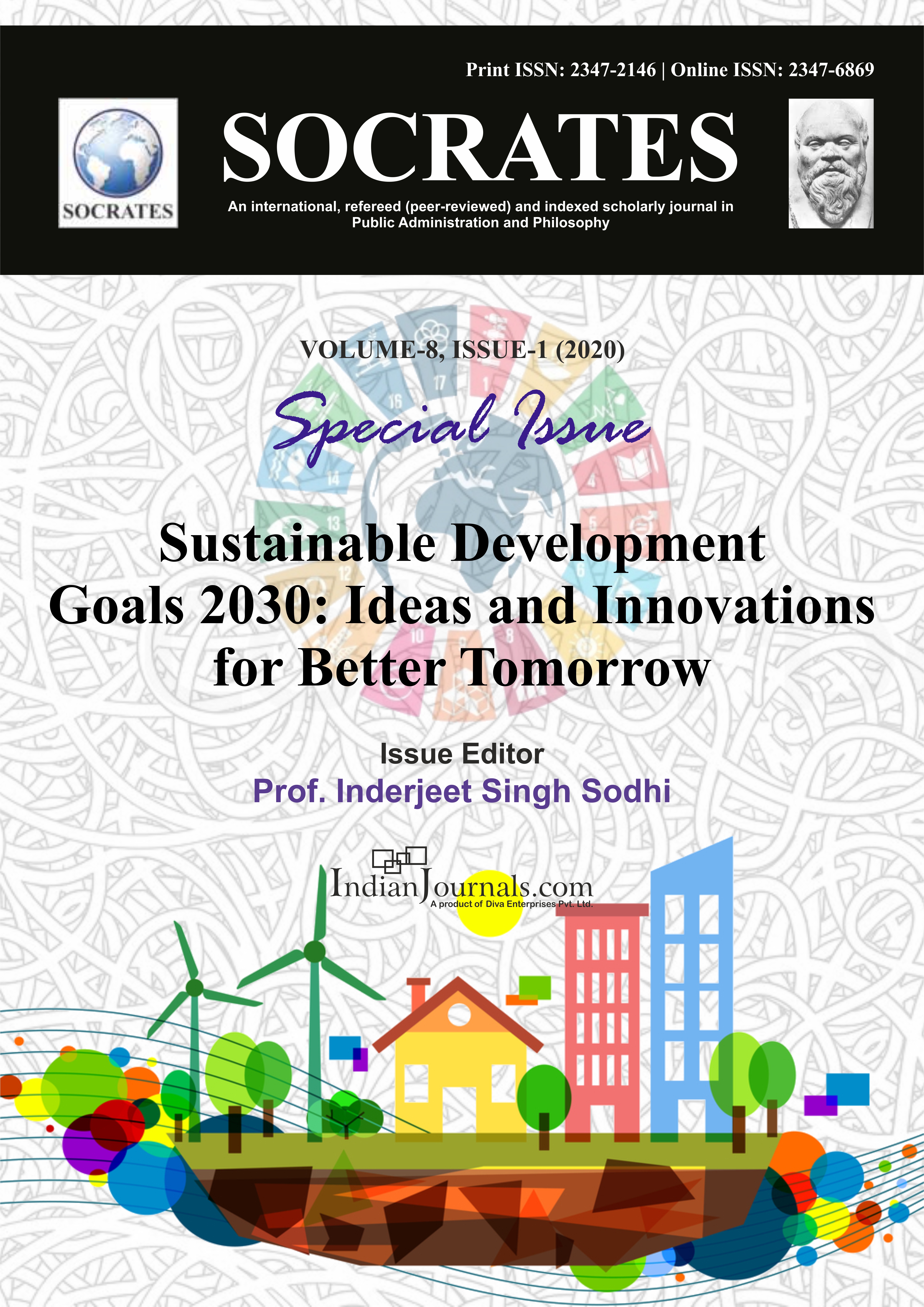 About this issue:
This issue of Socrates has been divided into three sections.
The first section is Language & Literature- Persian. The paper authored by Nazia Jafri critically analyses the novel Gunah-e-Muqaddas. This novel represents the Political and social situation in Iran during the Pahlavi.
The second section of this issue is Philosophy. The Paper authored by Olivera Z. Mijuskovic, critically analyses Aristotle's concept of the State. The word policy comes from the ancient Greek word "polis" and from it created another word "politeia" which refers to a lifestyle and "a general thing of all citizens". "Bios politikos" or practical life was related to life in community with other people. The definition of man as a political being (physei zoon politikon) comes from Aristotle. The paper authored by Giuseppe Gagliano proposes a historical analysis of The French school of economic warfare tradition, focusing on the last three decades of the 20th Century. The paper authored by George Papageorgakis shows how the requirement for the measure was reflected in the theoretical thinking of Presocratic philosophers. The paper deals with the period, when the concepts of measure, measurement and moderation penetrated into the fields of ethics and political philosophy, fields that still have not acquired a more systematic form as it happens in the era of Plato, Aristotle and their descendants. The paper authored by István Király V. attempts to conceptualise the "ancient" issues of human death and human mortality in connection to the timely and vital subject of euthanasia. The paper authored by Viviana Yaccuzzi Polisena emphasises upon one of the most beautiful theories offering an optimal explanation of the Cosmos: Everett III's theory, Relative State Formulation Of Quantum Mechanics, later expanded by Bryce DeWitt (1971) as The Many-Worlds Interpretation Of Quantum Mechanics.
The third section of this issue is Politics law and Governance. The paper authored by Prida Ariani Ambar Astuti is a Case Study of Elections in Jakarta, Indonesia which attempts to prove that Social media platforms have paved the way for political participation among youth, and has re-conceptualization the traditional form of political participation.
Authors:
Nazia Jafri, Research Scholar, Department of Persian, University of Lucknow, India
Olivera Z. Mijuskovic Full Member International Association of Greek Philosophy, University of Athens, Greece
Giuseppe Gagliano Chairman Cestudec (Center for Strategic Studies Carlo De Cristoforis) Italy
George Papageorgakis PhD Candidate in "Greek Philosophy – Philosophy of Sciences" School of Philosophy University of Ioannina, Greece
István Király V. (PhD)Associate Professor Department of Philosophy Babes-Bolyai University, Cluj, Romania
Viviana Yaccuzzi Polisena Philosophy Professor. UNNE Argentina
Prida Ariani Ambar Astuti Department of Library and Information Science North-Eastern Hill University, Shillong, Meghalaya, India. Graduate Education Program, Communication Sciences University of Indonesia Jakarta, Indonesia