A very warm Welcome to SOCRATES !!
SOCRATES is an international, multi-lingual, multi-disciplinary refereed and indexed scholarly journal. This journal appears quarterly in English, Hindi, Persian in 22 disciplines.
SOCRATES is available in both Print and On-line versions.
Printed Version (ISSN 2347-2146): Format: Print Book
On-line Version (ISSN 2347-6869): Format: Published online (PDF)

Journal Frequency: Published quarterly in March-June-September and December i.e. Four Issues in a year.
Script/Language of the Journal: Multilingual - English, Hindi, Persian
Mission:
SOCRATES aspires to be one of Worlds leading Journal Publishing innovative, responsive and high-quality Research Papers. Socrates is a serious, scholarly publication that is peer-reviewed and indexed, and we only accept quality manuscripts to publish in this international journal.Our mission behind introducing and initiating this journal is to motivate Scholars who have the willingness to Produce and publish quality research and discuss his/her original research, thoughts and ideas. We strongly believe in the concept of a connected academic world of researchers. Thus, we have indexed our journal at some of the best citation centres.
Current Status of the Journal:
The Journal Socrates is relatively young yet well-known around the Globe.
SOCRATES has been recognised as one of the major international journals worldwide. One and only Journal from Asia and the pacific which has been included in E-journals.org. E-Journals.org is the most honoured and trusted source which dates back to Tim Berners-Lee (inventor of the World Wide Web).
Produced as par of the Harvard Dataverse Network.
SOCRATES is under evaluation in Science Citation Index (SCI), ISI Web of Knowledge and Web of Science (Thomson Reuters)
SOCRATES is under evaluation in SCOPUS
SOCRATES is under evolution for inclusion in "The Philosopher's Index" (The Most Authoritative Online Bibliography in Philosophy).
SOCRATES is a REGISTERED JOURNAL FOR INDEXING (METADATA HARVESTING) Base URL for SOCRATES Repository: OAI-PMH version is 2.0 http://www.socratesjournal.com/index.php/socrates/oai Registered with world's topmost directories and databases.OAI base:http://www.socratesjournal.com/index.php/socrates/oai
Other Units/projects of the Journal:
**********************************************************************************************************************************************************************************************
Vol 5, No 1 (2017): Issue-March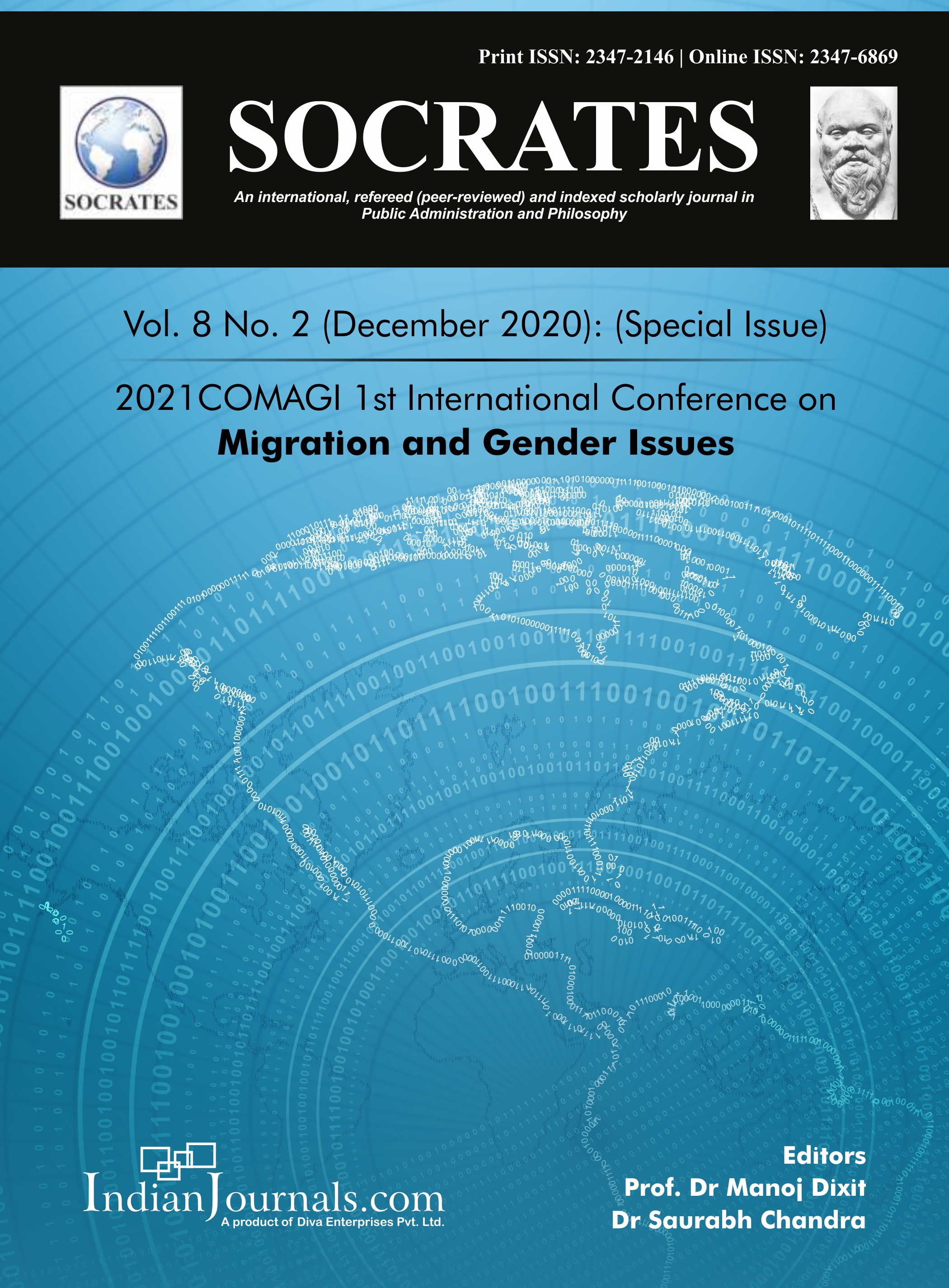 About this issue:
This issue of SOCRATES has been divided into four sections.
The first section of this issue is Language & Literature- Persian, which contains an article authored by Nazia Jafri. In this paper, hidden corners and unfamiliar life and priceless works of  Hussain Quli Mastan, who was the the first Iranian photo-journalist, has been introduced.
The second section of this issue is Language and Literature-English. Paper authored by Dr. P. Saravanakumar studies the use of a mask in Girish Karnad's play "Tughlaq."  Tughlaq is the most complex and complicated of Girish Karnad's works. Paper authored by R. Kaliyaperumal highlights the Science and Technology in Dan Brown's Digital Fortress. Paper authored by Vincent P discusses Black Community Voice Echoes on Eradicate of Identity in Toni Morrison's Novel Home. While exploring the twenty-first-century work Home we find the voices, which indicates the voice of the colonised people.  A deep study of this novel exposes the events and happenings at the time of colonisation.  It also exposes their emotions and feelings.
The third section of this issue is Philosophy. Paper authored by Giuseppe Gagliano intends to identify several key concepts that emerge from an analysis of Aron's acclaimed work on the role played by Marxist-Leninist ideology in the development of the 20th-century philosophic thought. Paper authored by Rocco Angelo Astore is an argument in favor of the Universal health care.
The fourth section of this issue is Politics, Law and Governance. Paper authored by Dr. Galyna Fesenko and Dr. Tetiana Fesenko aims to outline the role of e-democracy within the setting of the Eastern Partnership program. The article provides the comparative review of E-Government progress in six EaP countries in 2009 – 2016. Paper authored by Dr. Surendra Misra is related to Governance, Good Governance and development of different sectors in India. Paper authored by Dr. Sanjay Kumar Dwivedi focuses on the E-Governance initiatives that have changed the life style of rural citizens and in which the citizens derive benefit through direct transactions with the services provided by the union and the provincial governments. The paper also highlights the variety of constraints in implementing the E-governance projects in rural areas.
Authors:
Nazia Jafri, Research Scholar, Department of Persian, University of Lucknow, India
Dr. P. Saravanakumar Assistant Professor Department of English Vivekananda College Thiruvedakam West Sollavandan Madurai, Tamilnadu, India
R. Kaliyaperumal Assistant Professor Department of English Annai College of Arts & Science Kovilacheri, KumbakonanTamilnadu, India
Vincent P. Assistant Professor Department of English M.S University College Panagudi, Tamilnadu, India
Giuseppe Gagliano Chairman Cestudec (Center for Strategic Studies Carlo De Cristoforis) Italy
Rocco Angelo Astore Independent Scholar CUNY College of Staten Island Brooklyn, New York, USA
Dr. Tetiana FesenkoAssociate ProfessorDepartment of Engineering and ArchitectureLuhansk National Agrarian University, Kharkiv, Ukraine
Dr. Galyna FesenkoAssociate ProfessorDepartment of History and Cultural StudiesO. M. Beketov National University of Urban Economy in Kharkiv, Ukraine
Dr. Surendra Misra Assistant Professor (Public Administration) Department of Social Science & commerce Baba Saheb Bhim Rao Ambedkar (Central) University Satellite Campus Amethi (U.P.) India
Dr. Sanjay Kumar Dwivedi Teacher-Political Science Central School, Kanpur, India