SOCRATES is an International, Multi-lingual, Multi-disciplinary Refereed and Indexed Scholarly Journal.
Description of the journal SOCRATES :
SOCRATES is available in both Print and On-line versions.
Printed Version (ISSN 2347-2146)
On-line Version (ISSN 2347-6869)
Journal Frequency : Published quarterly in March-June-September and December i.e. Four Issues in a year. 
Script/Language of the Journal: Multi-lingual - English, Hindi, Persian
Subjects/Disciplines Covered: Multi-disciplinary (22 Disciplines)
Socrates ISSN 2347- 6869 (On-line version of the journal is Open access)
Printed version of SOCRATES ISSN 2347-2146 is available for Subscription.
Current status of the Journal Socrates:
Socrates is highly Indexed- You will find it on every directory of International repute. 
Socrates is connected with the centralized network of digital libraries of USA and UK through OCLC.
Socrates is under evaluation for calculation of Impact factor :Journal Citation Reports® , Global Impact Factor, Advanced Science Index, DRJI, Index Copernicus, Universal Impact factor and many more Indexes. 
Socrates has readers from around 111+ countries. 
SOCRATES is a REGISTERED JOURNAL FOR INDEXING (METADATA HARVESTING) Base URL for SOCRATES Repository: OAI-PMH version is 2.0 http://www.socratesjournal.com/index.php/socrates/oai Registered with worlds topmost directories and databases.
Explore the E-Journal website and try to understand the over all mechanism. Explore the possibilities of this simple but effective global platform called SOCRATES.
The On-line Version of the Journal (ISSN 2347-6869 ) is Open Access:
The articles published in the On-line version (E-journal) of SOCRATES can be accessed via electronic transmission. This specialized form of electronic journal has the purpose of providing material for academic research and study.That is why it is immediately available for citation, reading, copying and build upon. Permitted reuse is defined by the user license CC-BY-NC-ND 
Benefits of Open Access Research

Accelerated discovery :  With open access, researchers can read and build on the findings of others without restriction.
Improved education :  Open Access means that teachers and their students have access to the latest research findings throughout the world.
For researchers, open access brings increased visibility, usage and impact for their work. A number of studies have now been carried out on the effect of open access on citations to articles, showing the increased citation impact that open access can bring. Open access repositories also provide an excellent means for researchers to boost their online presence and raise their profile.

Major Attributes of Socrates:
1: Free for all (Open Access) : :There is No Article Access Restrictions .Registration and log in is not required to view open access contents.The core idea of Socrates On-line version (open access) is the basis of its key advantage—articles are freely available for anyone who wishes to read them. For readers and libraries, the benefits of not having to pay for an individual article or journal subscription are obvious. And for those that believe that publically funded research should be freely available to all, mandates to make the outcomes of these funding programs free to the public are now becoming the norm.

2: Zero Publishing fee : Publishing in the journal is free of cost. We do not charge any publication charges from the authors if their paper is Non-sponsored.There is No article processing charges (APCs).
3.Increased readership:  For authors, publishing open access rather than behind a paywall can help open up their research to a wider audience. In an era where the number of articles being published is skyrocketing, open access can help an article to be more discoverable online. And ultimately, an increased number of readers can convert into an increased number of citations for the author.

4: Strict quality control :  While not a problem for reputable publishers, some argue that open access models incentivize journals to publish more articles. Journals have to cover their costs and when a large portion of their revenue comes from publication fees, they may be encouraged to publish more articles, with a negative impact on overall quality. This debate was recently reignited with the acceptance of a spoof article by a Science editor in many open access journals. To overcome this problem we have implemented a high level of quality control in which articles are selected on the basis of their quality.

5: Access for researchers in developing countries :  The lack of access to subscription-based journals is a commonly cited problem for researchers in low-income countries. Open access can help provide scientists in such countries with the opportunity to participate in the international research community, with some open access journals even offering discounted or waived publication fees for papers from low-income countries. 
6. Support to the Authors/contributors/researchers of Under-developed Countries:
It is our policy to provide free research papers published in any issue of the journal to the readers and contributors of under-developed countries.  - See more at: Click here.

7: Printed version : Every issue of Socrates is published in On-line-Open access as well as Printed format. Readers who are willing to download and print an article published in the journal will have full access to the purchase options. Readers can also order full issue in printed format. They can also subscribe the printed version of the journal.The printed version of the journal Socrates ISSN 2347-2146 is meant for off-line availability of the journal to the readers and contributors who are willing to read the journal in Printed Format.The printed version of Socrates is available globally at a most affordable price.The journal Socrates supports its Open Access publishing model partly by the print version.
Impact Factor : 
Journal under evaluation for calculation of Impact factor :Journal Citation Reports® , Global Impact Factor, Advanced Science Index, DRJI, Index Copernicus, Universal Impact factor and many more scholarly Indexes . 

INDEXING :
FIND SOCRATES ON :  
...AND ON MANY MORE SCHOLARLY PLATFORM AND INDEXES!!
GROUPS AND COMMUNITIES 
SOCIAL NETWORK
Announcements
CALL FOR PAPER *NEW*: Vol 2, No 4 (2014) Issue - December

Posted: 2014-10-12
More...
Vol 2, No 3 (2014): Issue - September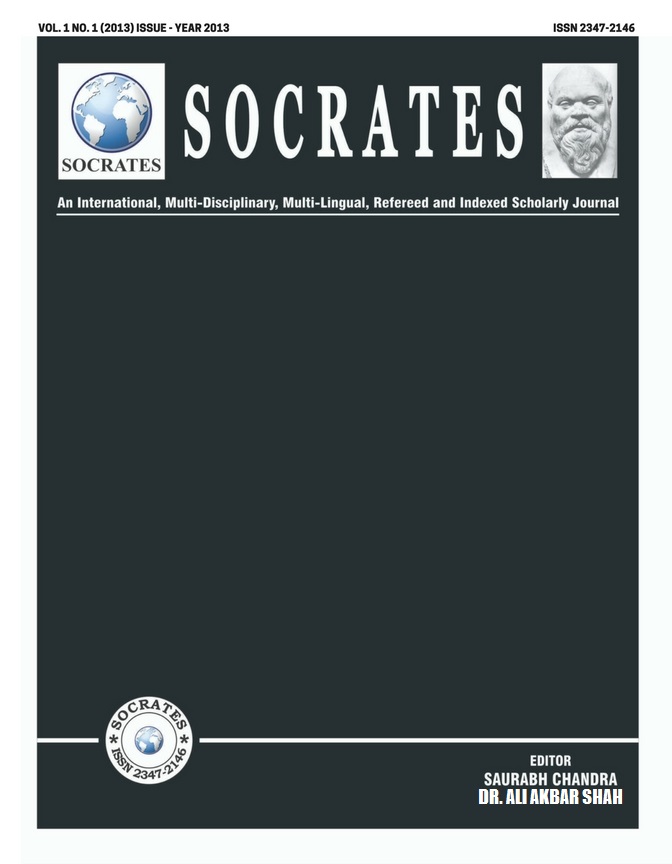 A
uthors/Contributors
Soumya Mukherjee, Dr. W. Jyotirmoy Singh, Casey Rentmeester Ph.D, Stephanie E. Hake, Stephen M. Bourque, Olúkáyọ̀dé R. ADÉṢUYÌ, Dibakar Pal, Adesanya Olusegun Paul, Heena Qadir, Fiona Jeelani and Faisal Rafiq Jeelani, Dr. Ashutosh Kumar
Saurabh Chandra Dr. Pragya Singh, Dr. (Mrs.)Shazia Siddiqui Khan
The Referee (Expert Reviewers) & Advisory Board Members
Prof.(Dr.) Manoj Dixit, Prof. S.A.Hasan, Prof. Madhurima, Prof. Chander Shekhar, Prof. S.M. Azizuddin Husain, Dr. Abha Rani, Prof. Dipika B. Shah, Dr. Arbind Kumar Choudhary, Monette Bebow Reinhard, Dr.Ratan Bhattacharjee, Dr. Biman Hazarika, Prof. Dr. Iraq Raza Zaidi,Dr. Vaishali Saxena