SOCRATES is an international, multi-lingual, multi-disciplinary refereed and indexed scholarly journal produced as par of the Harvard Dataverse Network. This journal appears quarterly in English, Hindi, Persian in 22 disciplines.
SOCRATES is available in both Print and On-line versions.
Printed Version (ISSN 2347-2146):Format : Print Book 
On-line Version (ISSN 2347-6869):Format : Electronic/HTML
Journal Frequency: Published quarterly in March-June-September and December i.e. Four Issues in a year. 
Script/Language of the Journal: Multilingual - English, Hindi, Persian
Mission :
SOCRATES aspires to be one of Worlds's leading Journal Publishing innovative, responsive and high-quality Research Papers. Socrates is a serious, scholarly publication that is peer-reviewed and indexed, and we only accept quality manuscripts to publish in this international journal.Our mission behind introducing and initiating this journal is to motivate Scholars who have the willingness to Produce and publish quality research and discuss his/her original research, thoughts and ideas. We strongly believe in the concept of connected academic world. Thus, we have indexed our journal at some of the best citation centres.
Current status of the Journal Socrates:
The Journal Socrates is relatively young yet well-known around the Globe.
SOCRATES has been recognized as one of the major international journal worldwide. One and only Journal from Asia which has been included in E-journals.org. E-Journals.org is the most honored and trusted source which dates back to Tim Berners-Lee (inventor of the World Wide Web).
Produced as par of the Harvard Dataverse Network.
SOCRATES is a REGISTERED JOURNAL FOR INDEXING (METADATA HARVESTING) Base URL for SOCRATES Repository: OAI-PMH version is 2.0 http://www.socratesjournal.com/index.php/socrates/oai Registered with worlds topmost directories and databases.OAI base:http://www.socratesjournal.com/index.php/socrates/oai
Socrates is included in the Public Knowledge Project Private LOCKSS Network (PKP PLN)  Journal Identifier: Journal's unique identifier for the PKP PLN: 9C5C2688-4603-B11C-589B-67EE49F6XXXX
Announcements
CALL FOR PAPER *NEW*: SOCRATES VOL. 3 NO. 2 ISSUE - JUNE 2015

Regular Paper Submission:

Socrates Journal invites Authors/Researchers to submit their research papers for consideration of publication in the regular Issues of the Journal.

We accept paper submission from 22 Disciplines and 3 languages (English- Hindi- Persian). 
It is recommended for Authors to read our Editorial Policies and Current Openings for submission before making paper submission. 
There is no Article Submission fee, No Article Publication fee and No Article Processing fee. 
Papers would be selected on the basis of authenticity, originality and depth of research.
Authors should provide complete Metadata for their paper whenever they make a paper submission.


Deadline For Regular Paper Submission: May 5, 2015

Online Paper Submissions: » SUBMIT YOUR PAPER NOW

Authors help document (Click here to download)




CLICK HERE TO KNOW ABOUT SPONSORED PAPERS.

 

 

 

Posted: 2015-03-20
More...
Vol 3, No 1 (2015): Issue-March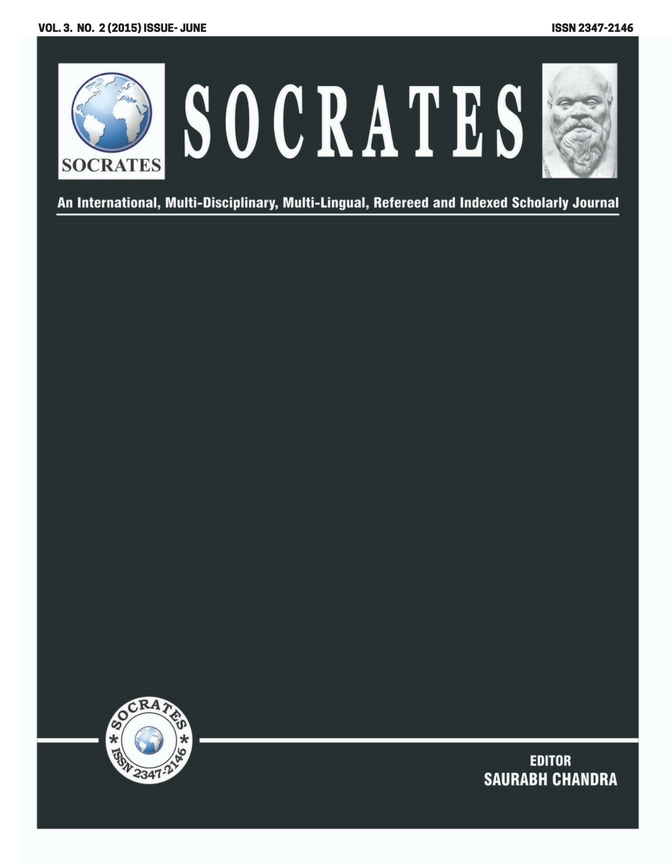 About this Issue:
This issue of Socrates has been divided into five sections. The first section of this issue is Language & Literature- English. The first article of this section deals with Pierre Bourdieu's concept of "symbolic" or "soft" violencein Margaret Drabble's latest novel, The Pure Gold Baby (2013).The second article of this section tends to analyses Connection in Richard Ford's A Multitude of Sins.The third article of this section applies the formalistic approach to scrutinize the two poems of William Butler Yeats. 
The second section of this issue is Philosophy. The first article of this section analyses the epistemological limit that separates the superhero fictitious universe from our universe of causal reality. The second article of this section argues that whatever might be said about his attack on other German philosophers, Santayana's attack on Kant, despite its subtlety, its force and its intelligence, is fundamentally misguided. 
The third section of this issue is Economics, Commerce and Management. In the first paper of this section authors have examined how, when and to what extent Strategic Human Resource Practices affect performance at the employee level. The second article of this section explores some of the important aspects of effective mobile money and digital financial services in bringing financial inclusion.
The fourth section of this issue is Politics, Law and Governance. The article in this section explores the African Union's ("AU") science and technology plan and strategy for Africa within the construct of Kwame Nkrumah's socio-political thought.
The fifth section of this issue The new Book, reviews AamNama by renowned scholar and poet "Suhail Kakorvi".
Authors:
Bushra Juhi Jani Research Student School of English. The University of Sheffield United Kingdom.
Frédéric Dumas English Department Stendhal University — Grenoble, France
Farough Fakhimi Anbaran Shiraz University, Islamic Republic of Iran
Alexandros Schismenos PhD Scholar Philosophy of Science University of Ioannina Greece
Dr. Samuel J.M. Kahn Assistant Professor of Philosophy Indiana University-Purdue University, Indianapolis United States
Prof. Madhurima Lall Professor& Head Department of Applied Economics Faculty of Commerce University of Lucknow India
Smt. Anjana Mohan Research Scholar Department of Applied Economics Faculty of Commerce University of Lucknow India
Dayadhar Raj Srivastava Asstt.General Manager (Inspection and Audit) State Bank of India Lucknow Area, India
Lloyd Delroy McCarthy Adjunct Professor in Africana Studies North Carolina State University United States 
Ghufran Naseem Senior Journalist Rojnama Sahara - Lucknow Edition India