SOCRATES is an International, Multi-lingual, Multidisciplinary Refereed and Indexed Scholarly Journal.
Description of the journal SOCRATES :
SOCRATES is available in both Print and On-line versions.
Printed Version (ISSN 2347-2146)
On-line Version (ISSN 2347-6869)
Journal Frequency : Published quarterly in March-June-September and December i.e. Four Issues in a year. 
Script/Language of the Journal: Multilingual - English, Hindi, Persian
Subjects/Disciplines Covered: Multi-disciplinary (22 Disciplines)
Socrates ISSN 2347- 6869 (On-line version of the journal is Open access)
Printed version of SOCRATES ISSN 2347-2146 is available for Subscription.
Mission :
SOCRATES aspires to be one of Worlds's leading Journal Publishing innovative, responsive and high quality Research Papers. Socrates is a serious, scholarly publication that is peer-reviewed and indexed; and we only accept quality manuscripts to publish in this international journal .Our mission behind introducing and initiating this journal is to motivate Scholars who have the willingness to Produce and publish quality research and discuss his/her original research, thoughts and ideas. We strongly believe in the concept of connected academic world. Thus we have indexed our journal at some of the best citation centres.
Current status of the Journal Socrates:
The Journal Socrates is relatively young yet well-known around the Globe.
Socrates is highly Indexed- You will find it on every directory of International repute. 

Produced as par of the Harvard Dataverse Network.

Socrates is connected with the centralized network of digital libraries of USA and UK through OCLC.
Socrates is under evaluation for calculation of Impact factor:Journal Citation Reports® 
SOCRATES is a REGISTERED JOURNAL FOR INDEXING (METADATA HARVESTING) Base URL for SOCRATES Repository: OAI-PMH version is 2.0 http://www.socratesjournal.com/index.php/socrates/oai Registered with worlds topmost directories and databases.
Socrates is included in the Public Knowledge Project Private LOCKSS Network (PKP PLN)  Journal Identifier : Journal's unique identifier for the PKP PLN : 9C5C2688-4603-B11C-589B-67EE49F6XXXX
Vol 2, No 4 (2014): Issue - December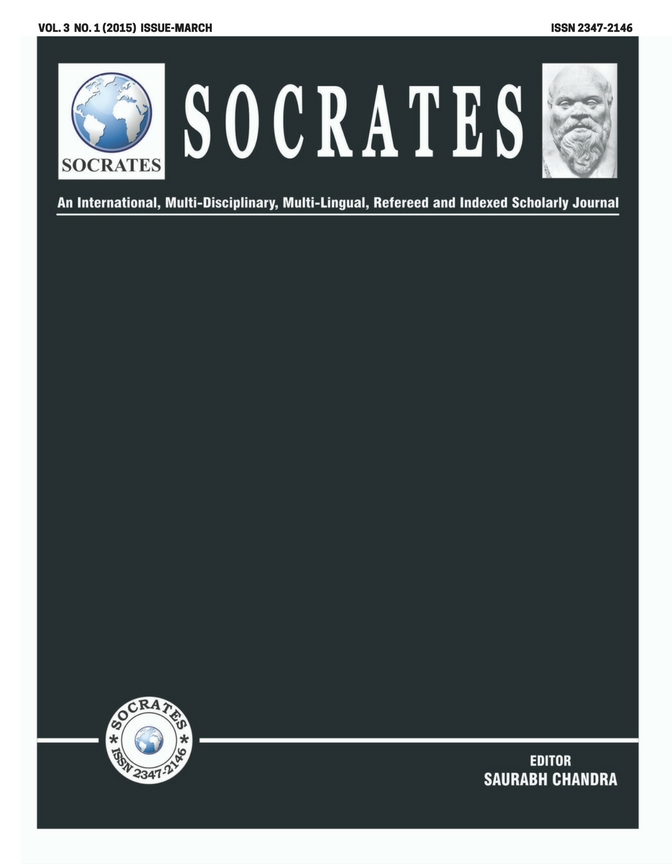 Authors
 Bryan Mead, ARGHYA CHAKRABORTY, PINAKI RANJAN DAS, Sepp Arvi,Harp Grady,Dr. Abdus Shahid
PUBLISHED RESEARCH PAPERS AND ARTICLES :
BOOK Reviews
Children & Maternal Health - Informative Article