SOCRATES is an international, multi-lingual, multi-disciplinary refereed and indexed scholarly journal produced as par of the Harvard Dataverse Network. This journal appears quarterly in English, Hindi, Persian in 22 disciplines.
SOCRATES is available in both Print and On-line versions.
Printed Version (ISSN 2347-2146):Format : Print Book
On-line Version (ISSN 2347-6869):Format : PDF Free and unrestricted online availability
Journal Frequency: Published quarterly in March-June-September and December i.e. Four Issues in a year. 
Script/Language of the Journal: Multilingual - English, Hindi, Persian
Socrates Scholarly Research Journal offers following services to the Scholars and Institutions worldwide:
**********************************************************************************************************************************************************************************************
********************************************************************************************************************************************************************
Mission :
SOCRATES aspires to be one of Worlds's leading Journal Publishing innovative, responsive and high-quality Research Papers. Socrates is a serious, scholarly publication that is peer-reviewed and indexed, and we only accept quality manuscripts to publish in this international journal.Our mission behind introducing and initiating this journal is to motivate Scholars who have the willingness to Produce and publish quality research and discuss his/her original research, thoughts and ideas. We strongly believe in the concept of connected academic world. Thus, we have indexed our journal at some of the best citation centres.
Current status of the Journal Socrates:
The Journal Socrates is relatively young yet well-known around the Globe.
SOCRATES has been recognized as one of the major international journal worldwide. One and only Journal from Asia which has been included in E-journals.org. E-Journals.org is the most honored and trusted source which dates back to Tim Berners-Lee (inventor of the World Wide Web).
Produced as par of the Harvard Dataverse Network.
SOCRATES is a REGISTERED JOURNAL FOR INDEXING (METADATA HARVESTING) Base URL for SOCRATES Repository: OAI-PMH version is 2.0 http://www.socratesjournal.com/index.php/socrates/oai Registered with worlds topmost directories and databases.OAI base:http://www.socratesjournal.com/index.php/socrates/oai
Socrates is included in the Public Knowledge Project Private LOCKSS Network (PKP PLN)  Journal Identifier: Journal's unique identifier for the PKP PLN: 9C5C2688-4603-B11C-589B-67EE49F6XXXX
Announcements
CALL FOR PAPER *NEW*: SOCRATES VOL. 3 NO. 3 ISSUE - September 2015

 

Regular Paper Submission:

Socrates Journal invites Authors/Researchers to submit their research papers for consideration of publication in the regular Issues of the Journal.

We accept paper submission from 22 Disciplines and 3 languages (English- Hindi- Persian). 
It is recommended for Authors to read our Editorial Policies and Current Openings for submission before making paper submission. 
There is no Article Submission fee,No Article Processing fee  and No Publication fee. 
Papers would be selected on the basis of authenticity, originality and depth of research.
Authors should provide complete Metadata for their paper whenever they make a paper submission.


Deadline For Regular Paper Submission: August 5th 2015

Online Paper Submissions: » SUBMIT YOUR PAPER NOW

Authors help document (Click here to download)

CLICK HERE TO KNOW ABOUT SPONSORED PAPERS.

 

 

 

Posted: 2015-06-24
More...
Vol 3, No 2 (2015): Issue- June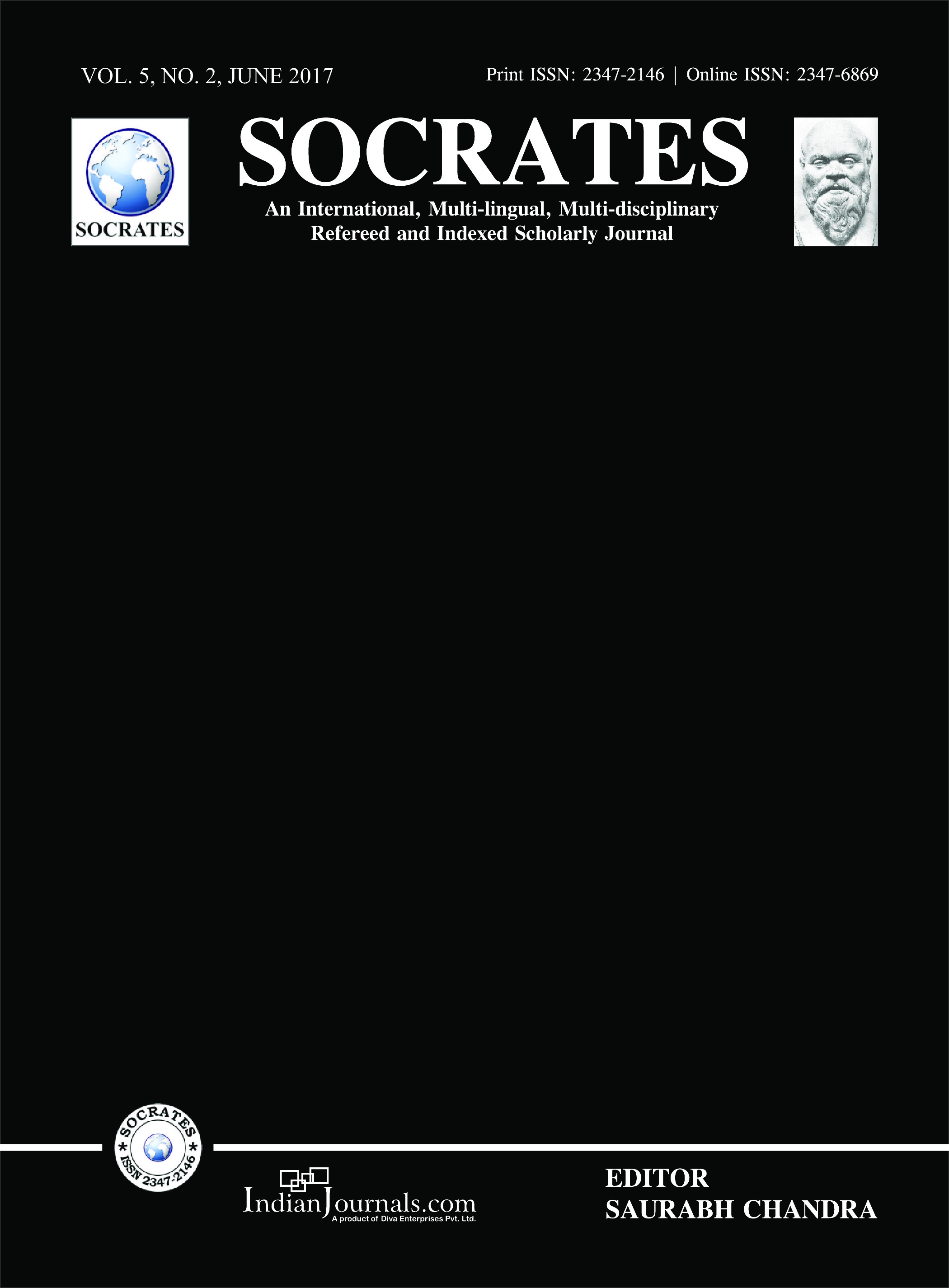 About this Issue:
This issue of Socrates has been divided into three sections. The first section of this issue is Language & Literature- English. The first article of this section tends to illustrate how, in spite of all those failures, Oedipus can be a hero.The second article of this section aims to explore artificial intelligence within the area of popular science fiction novels and films, which incorporates the fantasy of techno-salvation in the near future of singularity through overcoming the carbon limitations of human, fusing essence of spirituality with technology as well as extending spiritual beliefs into technological faith. The third article of this section deals with Comparative Poetics. It claims that the emergent plurivocal conversation of a comparative poetics that includes Middle East will open new horizons to our cross-cultural perspective.
The second section of this issue is Philosophy. The first article of this section argues that we ought to make a concerted effort to promote intrinsic value in education.The philosophical novel, when written, taught, or read playfully, has potential to furnish this intrinsic value, thereby offering a promising way of seizing the moment in education. The second article of this section explores the systematic relationship in the work of Giordano Bruno (1548-1600) between his monadology, his metaphysics as presented in works such as De la causa, principio et uno, the mythopoeic cosmology of Lo spaccio de la bestia trionfante, and practical works like De vinculis in genere. The third article of this section argues for the synthesis of the Internalism and Externalism theory of justification. It is the opinion of the paper that since both internalist and externalists legitimately seeks the epistemic quest for certainty, both are important epistemologically.
The third section of this issue is Economics, Commerce and Management. The Paper of this section analyzes different monetary and non-monetary factors influencing the poverty level. The analyze is based on data from the Living Standard Measurement Survey and using structural equations model.
Authors:
Farough Fakhimi Anbaran Shiraz University, Iran
Ashik Mahmud Department of English Jahangirnagar University, Dhaka, Bangladesh
Fomeshi Behnam Mirzababazadeh Ph. D. Candidate of English Literature Department of Foreign Languages and Linguistics College of Literature and Humanities Shiraz University, Shiraz, Islamic Republic of Iran
Ghasemi Parvin Professor Emeritus of English Literature Shiraz University, Iran
Anushiravani Alireza Associate Professor of Comparative Literature College of Literature & Humanities Shiraz University Shiraz Iran
Prof. (Dr.) M. KAYE SHARON Professor- Department of Philosophy John Carroll University United States
Dr. Edward P. Butler Independent Scholar PhD. in Philosophy New School for Social Research New York City United States
Akinpelu Ayokunnu Oyekunle PhD Student and Researcher Department of Philosophy University of Ibadan, Ibadan, Nigeria
Ruzhdie Bici Phd Candidate Department of Economics University of Tirana, Albania
Prof. Dr. Ahmet Mancellari Department of Economics University of Tirana, Albania