SOCRATES is an International, Multi-lingual, Multi-disciplinary Refereed and Indexed Scholarly Journal.
Description of the journal SOCRATES :
SOCRATES is available in both Print and On-line versions.
Printed Version (ISSN 2347-2146)
On-line Version (ISSN 2347-6869)
Journal Frequency : Published quarterly in March-June-September and December i.e. Four Issues in a year. 
Script/Language of the Journal: Multi-lingual - English, Hindi, Persian
Subjects/Disciplines Covered: Multi-disciplinary (22 Disciplines)
Socrates ISSN 2347- 6869 (On-line version of the journal is Open access)
Printed version of SOCRATES ISSN 2347-2146 is available for Subscription.
Mission :
SOCRATES aspires to be one of Worlds's leading Journal Publishing innovative, responsive and high quality Research Papers. Socrates is a serious, scholarly publication that is peer-reviewed and indexed; and we only accept quality manuscripts to publish in this international journal .Our mission behind introducing and initiating this journal is to motivate Scholars who have the willingness to Produce and publish quality research and discuss his/her original research, thoughts and ideas. We strongly believe in the concept of connected academic world. Thus we have indexed our journal at some of the best citation centres.
Current status of the Journal Socrates:
Socrates is highly Indexed- You will find it on every directory of International repute. 
Socrates is connected with the centralized network of digital libraries of USA and UK through OCLC.
Socrates is under evaluation for calculation of Impact factor :Journal Citation Reports® , Global Impact Factor, Advanced Science Index, DRJI, Index Copernicus, Universal Impact factor and many more Indexes. 
Socrates has readers from around 111+ countries. 
SOCRATES is a REGISTERED JOURNAL FOR INDEXING (METADATA HARVESTING) Base URL for SOCRATES Repository: OAI-PMH version is 2.0 http://www.socratesjournal.com/index.php/socrates/oai Registered with worlds topmost directories and databases.
The On-line Version of the Journal (ISSN 2347-6869 ) is Open Access:
The articles published in the On-line version (E-journal) of SOCRATES can be accessed via electronic transmission. This specialized form of electronic journal has the purpose of providing material for academic research and study.That is why it is immediately available for citation, reading, copying and build upon. Permitted reuse is defined by the user license CC-BY-NC-ND 
Manuscripts published in Socrates are licensed under the Creative Commons Attribution-Non Commercial-NoDerivs 2.5 India License.You are free to copy, distribute, display and perform the work as long as you give the original author(s) credit, do not use this work for commercial purposes, and do not alter, transform, or build upon this work. For any reuse or distribution, you must make clear to others the license terms of this work. Any of these conditions can be waived if you get permission from the copyright holders. Nothing in this license impairs or restricts the authors' rights. To view a copy of this license, visit http://creativecommons.org/licenses/by-nc-nd/2.5/in/ or send a letter to Creative Commons, 171 Second Street, Suite 300, San Francisco, California, 94105, USA.
Please watch this video to understand the Meaning of Open Access :
Announcements
NEW ANNOUNCEMENT: New Subscription Price List for 2015-16

Posted: 2014-12-17

CALL FOR PAPER *NEW*: MANUSCRIPT SUBMISSION GUIDELINES

Posted: 2014-12-01
More...
Vol 2, No 3 (2014): Issue - September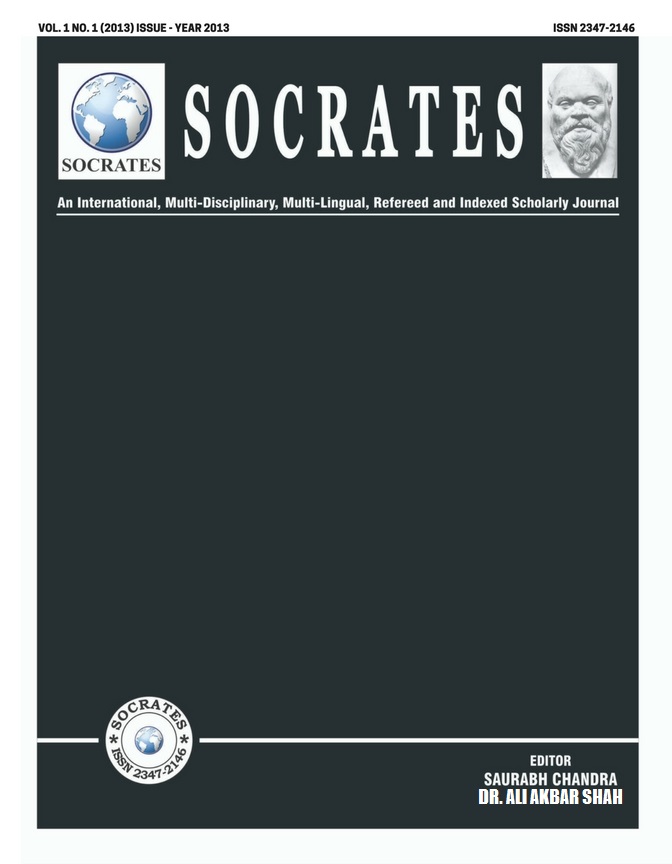 Soumya Mukherjee, Dr. W. Jyotirmoy Singh, Casey Rentmeester Ph.D, Stephanie E. Hake, Stephen M. Bourque, Olúkáyọ̀dé R. ADÉṢUYÌ, Dibakar Pal, Adesanya Olusegun Paul,Aynul Haque, Heena Qadir, Fiona Jeelani and Faisal Rafiq Jeelani, Dr. Ashutosh Kumar
Saurabh Chandra Dr. Pragya Singh, Dr. (Mrs.)Shazia Siddiqui Khan
The Referee (Expert Reviewers) & Advisory Board Members
Prof.(Dr.) Manoj Dixit, Prof. S.A.Hasan, Prof. Madhurima, Prof. Chander Shekhar, Prof. S.M. Azizuddin Husain, Dr. Abha Rani, Prof. Dipika B. Shah, Dr. Arbind Kumar Choudhary, Monette Bebow Reinhard, Dr.Ratan Bhattacharjee, Dr. Biman Hazarika, Prof. Dr. Iraq Raza Zaidi,Dr. Vaishali Saxena